Michael D'Ambrosio wears a red shirt like nobody's business -- and an awesome cabby hat -- but that isn't why you need to meet him. You need to meet him because his work is just plain smart and fun to read. He's written a little bit of everything, being a sort of literary jack of all trades, but without being just a dabbler in any genre.
Tell us a bit about your latest work.
My latest novel,
Galaxy of the Damned
, was just released in March from Helm Publishing and is the fourth and final book in my
Space Frontiers
series. This series is classic space opera from the molds of Star Wars and Star Trek with two very intriguing and lovable lead characters in Will and Shanna. Their adventures are an emotional roller coaster as they find ways to turn a galactic war upside-down with their antics.
What are the themes and subjects you tend to revisit in your work?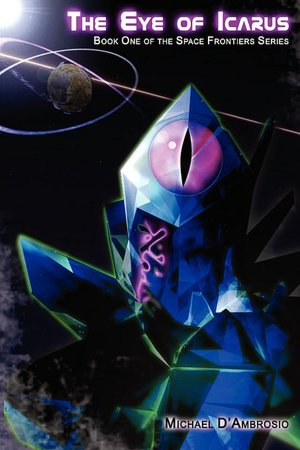 There is always a good versus evil theme in my novels along with a strong theme of survival. I like to put my characters through hell, both physically and mentally. I enjoy writing about futuristic science fiction subjects with a twist of horror, fantasy and dysfunctional romance.
What would be your dream project?
My dream project would be to write a futuristic action series with Jerry Bruckheimer as the producer. Jerry has a knack for bringing out the best in anyone who works for or with him.
If you have any former project to do over to make it better, which one would it be, and what would you do?
If I could go back and redo one project, it would be my
Fractured Time
trilogy. Since I started into developing a TV series, I've come up with so many new ideas, some which have become episodes in the series. I could easily turn the trilogy into a six or seven book series.
What inspires you to write?
Escapism is my main motivation for writing. After doing several tours of duty in the Middle East, our day-to-day problems seem pretty pathetic to those in war-torn countries.
What writers have influenced your style and technique?
Laurel K. Hamilton (
Anita Black: Vampire Hunter
) and Storm Constantine (
Wraethu
series) have had a big influence on how I develop my characters. They are awesome with how they transition their characters over the course of a story. Terry Brooks is another great writer who has influenced me with his vision and creativity. Just read one of his books and you'll see what I mean.
Where would you rank writing on the "Is it an art or it is a science continuum?" Why?
My writing falls more in line with science in fiction. Thanks to my technical backgrounds, both in the military and the power industry, I like to give my readers a taste of what some of our technology could be in the future without giving them a physics lesson. Unfortunately, modern science is changing so fast that it's difficult to show the future when it quickly becomes the past. What's a writer to do?
Any other upcoming projects you would like to plug?
Princess Pain
will be my next novel sometime in the future. It's a futuristic action story about Marina, the daughter of Will and Shanna from Space Frontiers, at thirty years of age. She is a real piece of work thanks to her parents' fate at the end of
Galaxy of the Damned
. I've already written a screenplay for this but the novel will give me an opportunity to really get into her head and have some fun with this psychotic young lady.
I've also completed a few sort stories that you may see appear in anthologies soon. One is titled "Perseus Meets Charlie Harper" and will be released in an anthology from Fortress Publishing called TV Gods next year at BaltiCon. Another is "A Night with Edgar Allan Poe" which will be in an anthology called
Center of the Bar
from AZ Publishing. A release date has not been set as stories from other authors are still being collected. I'll have details on these and other projects on my website at
www.fracturedtime.com
. Thanks, Sean, for having my on your blog.